About Tessa
About my work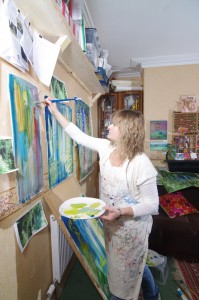 Colour, pattern, texture, line and tone are the key elements. Often inspired by poetry, I am a textile- trained artist and designer and my work has been described as "fresh and semi-abstract". I like to allow viewers to see and connect with my work in their own personal way.
Constructed textiles give control to the maker from the very start of the process. I loved creating the threads, dyeing them, and setting up the loom-this is why I like to experiment so much with materials, both found and sourced. I do not start with a blank sheet of white paper. I love to have surprises, sometimes treasured collage applied, stitched or embedded on to the surface, be it canvas, paper or cloth.
I have terrible difficulty in throwing anything away! Rarely is my studio tidy but I know where everything lies waiting for its moment to be used, transformed into part of a new piece of work.
I like to play with colour combinations and patterns and take delight in recording what I see in unusual ways. Patterns for interior decoration require the designs to be seen from all angles and this is often the case with my work, which can sometimes be hung in any orientation and still please the eye.
Since 2006 Tessa has been an active member of Drawn To the Valley, the cooperative of artists and designers living and working in the Tamar Valley, spanning Cornwall and Devon. She regularly participates in the DTTV annual Open Studios http://papereditingexpert.com event.
She has an upcyled caravan in her garden where she works.