Current Events
The Brick Lane Gallery, 216 Brick Lane | London | E1 6SA Phone: +44 (0) 207 729 9721
Art in Mind & Contemporary Painting 8th – 19th June Private view: 8th June, 6:00 – 8:30pm
This exhibition will present the work of UK and international artists working with contemporary art and painting. The focus for this exhibition will be on emerging and mid-career artists. We hope you can join us at the opening on the 8thth of June from 6 to 8.30 pm
Open: 10am – 6pm Monday to Friday 12 – 6pm Sunday
ARTISTS INCLUDE:
Clare Law   Tessa Jane  Ian Dolwin  Rosmary Burn  Ela Ertan  Sofia Castro  Mariana Gumeniuc  Weronika Raczynska  Shahkar Ali  Cristina Alvarez
Bovey Tracey Craft Fair, with Creative South West.
Devon Open Studios September
Drawn to make October
Contemporary Art Fair Windsor November.
Previous Exhibitions
Delamore Arts The 20th Anniversary- May 2022.
Delamore Arts and Sculpture Exhibition takes place annually, every day during May including Bank Holidays. The exhibition presents the largest collection of artist's work in one place in the South West.  Work is available to view by going to the Catalogue tab above.  If you are interested in buying any of the work, or would like more information please contact David on 01752837663 or by email admin@delamore.com
I am an ambassador for Overcoming Multiple Sclerosis, the worlds leading multiple sclerosis healthy lifestyle charity. OMS understands that living with multiple sclerosis can be overwhelming — but there is realistic hope of living well.  https://overcomingms.org
Over 2.8 million people worldwide live with multiple sclerosis, with many experiencing progressive disability over time. Although there is currently no cure for MS, we believe that people with MS can lead positive and fulfilling lives. This belief is based on substantial scientific evidence of the benefits of holistic self-care, alongside medical therapies when appropriate and I am thrilled that in it's 20th Year Delamore Arts has chosen our OMS charity to support. The Delamore Gardens have inspired and restored me time and time again. Throughout May, whilst the exhibition and sculpture trail takes place, I am trying to draw a wider community and raise awareness by creating a programme of exciting talks, trails, workshops etc.
There will be a silent postcard auction so if you have taken part in Delamore over the last 20 years why not create a standard size postcard to donate for the sale. All profits will go to OMS and help fund their continued research and support of all those living with MS.
OMS understands that living with multiple sclerosis can be overwhelming — but there is realistic hope of living well.
Over 2.8 million people worldwide live with multiple sclerosis, with many experiencing progressive disability over time.
Drawn to the Valley Open Studios-Sunday 29th August-Sunday 5th Sept 11-5 2021
Tessa Wychwood studio is open. This year as part of her safety measures for COVID19 there will be an outside space, sanitiser and controlled viewings. For the indoor areas Tessa would like visitors to wear a mask please.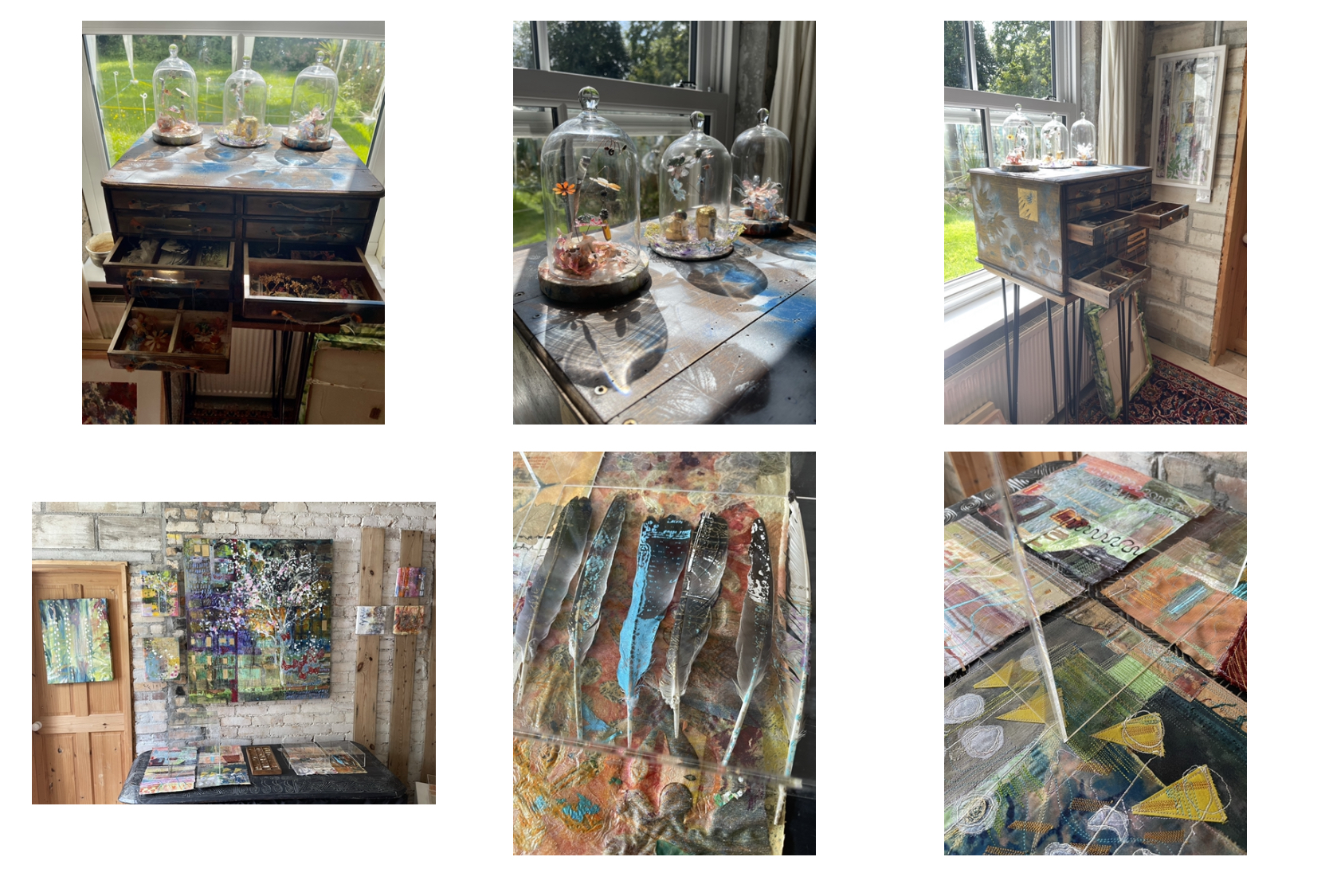 Devon Open Studios-DEVON OPEN STUDIOS Saturday 11 – Sunday 26 September 2021 10am-5pm most days.
Rain or shine a warm welcome awaits.
Tessa exhibited at the 167th Annual Open Exhibition at Royal West of England Academy.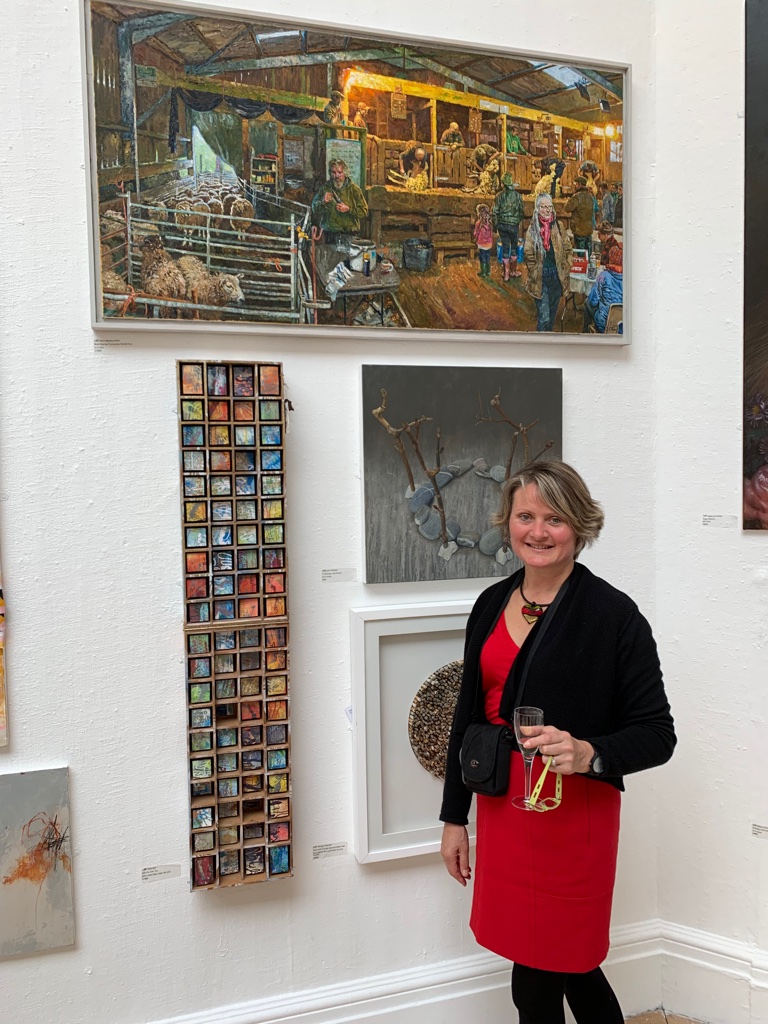 She had a fabulous time at
The Deepbridge Chester Arts Fair, a leading annual art event taking place from 15-17 November 2019 at Chester Racecourse.
Since the art fair first opened in 2012, it has grown considerably. It now attracts over 100 UK & international artists exhibiting paintings, sculpture, photography, illustration, glassware, digital art, ceramics and much more. Chester Arts Fair welcomes thousands of visitors throughout the weekend with a passion for art, from serious collectors to those investing in their first piece of original art.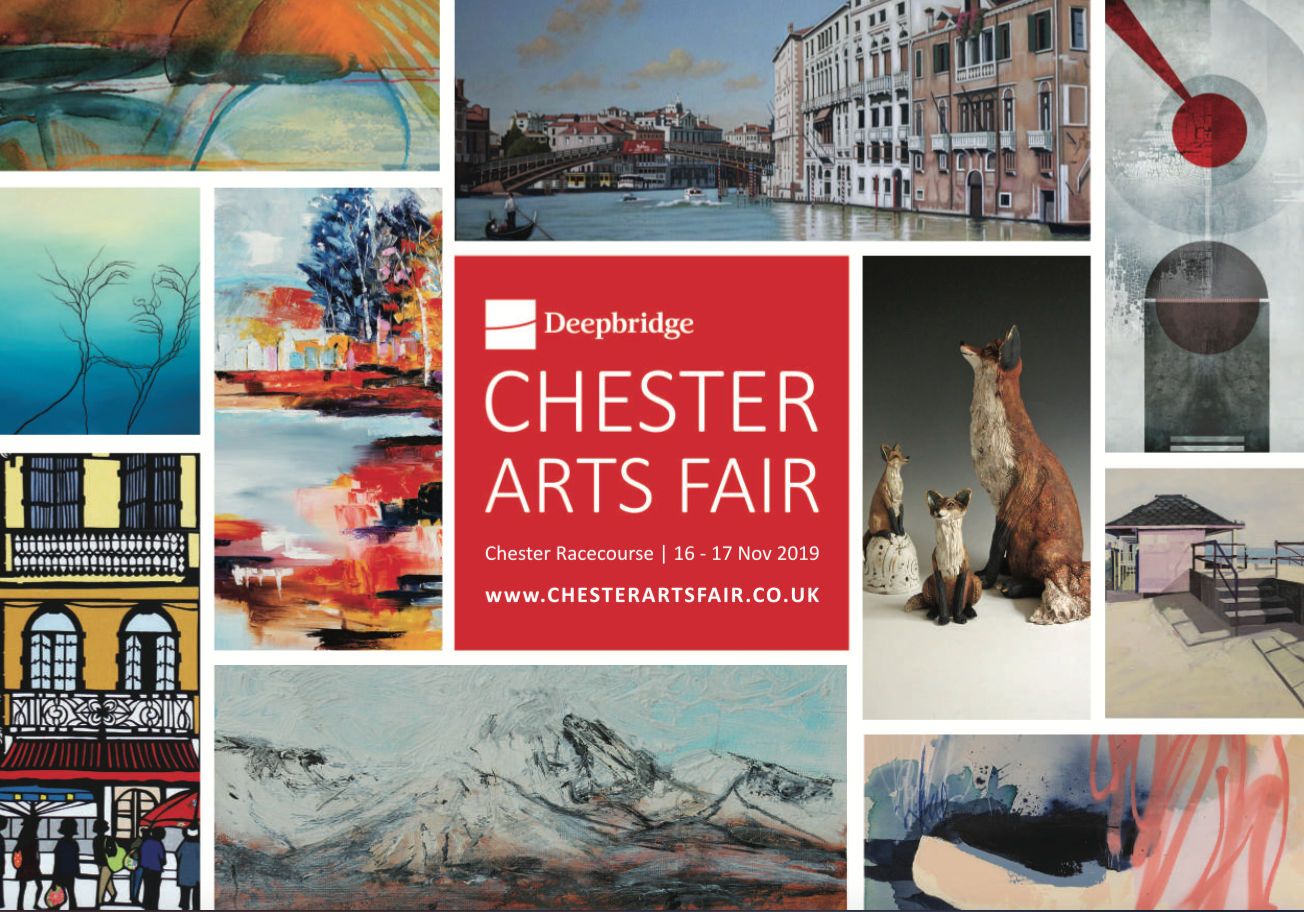 Delaware Arts in May 2019 and local events.
Drawn to London, Royal Opera Arcade Gallery, 5b Pall Mall Street, Royal Opera Arcade London SW1Y 4UY
Delaware Arts 2018, Cornwood.
The Contemporary Textiles Fair 2018, Teddington London
Tamar Valley Spring Exhibition 2018
XIth Florence Biennale, eARTh – Creativity & Sustainability   6th-15th October 2017
The XIth Florence Biennale aims at contributing to envision a future in which creativity and sustainability are inspiring principles of an artistic and cultural 'ecosystem' within a world that is respectful of nature and life forms on Earth. In this perspective cultural diversity and biodiversity do not exist in separate and parallel realms, but are part of a kind of co-evolutionary process that needs to be preserved and nurtured.
Artists as well as creative and cultural industries, including therein museums, art galleries, artist-run societies, schools, publishers, and other organisations, can play a key role in the realisation of such a process, which entails many aspects – from education and talent and skills development to equality issues, from cross-disciplinarity and cross-culturalism to the value of all cultural identities and local traditions and, not least, the preservation of world heritage, whether cultural or natural, through programs of conservation and sustainable development.
The XIth Florence Biennale, which will be held at the Fortezza da Basso, this time in the light and spacious venue at the ground floor, includes digital art in their prize categories, along with Video Art, Photography, Installation Art, Performance Art as well as Painting, Drawing & Calligraphy, Mixed Media, Sculpture, Ceramic Art, Textile & Fiber Art, and Jewellery Art. Along with the artworks of participating artists with different cultural backgrounds and at different career stages, special projects by a few guest artists of honour will be showcased in this fascinating venue, which also offers non-conventional exhibition spaces for site-specific installations. Special events will also be set up to present the guest artists who will be receiving the 'Lorenzo il Magnifico' Lifetime Achievement Award for having entwined creativity and sustainability as principles inspiring their work. All this will give breath of life to EARTH, the theme of the XIth Florence Biennale, our vision of art as a plurality of creative endeavours in harmony with nature and life forms on this planet.
Drawn to the Valley Open Studios 2nd-10th September (11am-5pm Daily)
The studio at Wychwood will be open to the public as part of the annual Drawn to the Valley Open Studios Event. No 67 in the Directory (which can be found deposited in public places like pubs, libraries and TI's) Tessa will be painting and working with her screens, creating a wide variety of pieces for you to see on fabric and paper. Her furniture and varied works will be on display. Bring something used and no longer loved and challenge her to make it precious again! Sunday 3rd The Empty Box Company will be visiting and collaborating with Tessa, using her screen printed papers. Visitors can bring their own to be made up ( a fee is required for this) work will be on sale on the day or orders/commissions taken.
Delamore Arts 2017-throughout May was as delightful as ever. The addition of talks and lectures was very beneficial and Tessa thoroughly enjoyed all aspects of this years events.
I was delighted to have exhibited with Plymouth Society of Arts at the beginning of the year and thoroughly enjoyed The Contemporary Textile Fair.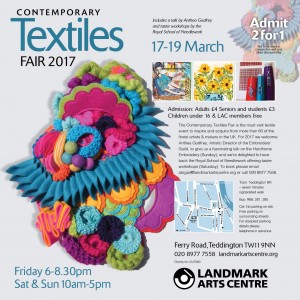 Delamore Arts 2016
The exhibition takes place annually and is open every day in May.  Why not browse and perhaps buy one of the many pieces created by local, national, and international artists.
http://www.delamore-art.co.uk
Oxford International Art Fair 26, 27 & 28 FEBRUARY 2016 · OXFORD TOWN HALL where Tessa won first prize Artist winner.

The city of Tokyo will be playing host to hundreds of talented artists from all around the world when it stages the second Tokyo International Art Fair by Global Art Agency (The GAA Ltd) on 13-14 May 2016, Omotesando Hills, Main Building
More than 150 exhibitors from over 40 countries will be filling the prime located venue with an incredible display of art, with more pieces than ever before gathered under one roof for visitors to admire and to buy in the city's largest Artist showcase of modern and contemporary art.

 Wish I could have actually been there in person.
Unconcious Dialogue 8th July- 7th August 2015 with Devonport High School for Girls at Cube 3 Plymouth University.
The Stylish Home and Garden Show, 28th/29th March, Mount Edgcumbe, Cremyll. Tessa  showed bespoke cushions and chairs with Bruce Jacks Upholsterer of Fine Antiques http://www.bruce-jack.co.uk Innovative home and garden ideas, inspiring creative demonstrations with over 60 exhibitors. Coordinated by www.stylisheventssw.co.uk
EMERGING ARTISTS BURSARY WINNERS 2014 Tessa  exhibited at the Thelma Hulbert Gallery, Honiton 6th Sept-25th Oct  2014  www.thelmahulbert.com
Tessa was open to the public for both Drawn to the Valley open studios and Devon Artists Network Sept 2014
Digital Encounters open to the public 13th June- 24th July at UCA Canterbury
The Digital Encounters exhibition hosted by the University for the Creative Arts will be the finale of the Moving Textiles exhibition series. Works can be made in response to the Digital Encounters Symposium which considered the transformative effect of digital design and production techniques on a range of textiles practices exploring the relationship between hand crafted and digital textile techniques. Along with work inspired by the symposium works may be created in response to the question 'How do you see the future of textiles and its relationship to digital media?' Work may be produced by established professionals or up-and-coming designers from across different visual arts, using a range of media or mediums. In addition examples of work made as part of the Crysalis – the revival of textiles project, will be exhibited to celebrate the juxtaposition of digital textiles design alongside hand crafted textiles and heritage.
Drawn to the Valley Capturing Time Exhibition at AONB Tamar Valley Centre, Drakewells, nr Gunnislake in May.
2014 9th Parallax "Art" Fair, 21st/ 22nd February, Chelsea Old Town Hall, London
2013 Plymouth Society of Artists at Plymouth City Museum and Art Gallery, Drake Circus, Plymouth PL4 8AJ 11th January to 13th February
2011-13 Variety of exhibitions and Drawn to the Valley Open studios (see CV)
2010 The Garden House, Buckland Monochorum, Yelverton Devon  .  "Glimpses"  .  Solo show
2009 Duchy Square Centre for Creativity, Prince Town, Devon  .  Curated and exhibited with DTTV
Mount Edgecumbe Cornwall  .  "Explore this Space"  .  Curated and exhibited
2008 Tavistock Town Hall, Devon  .  Mixed exhibition with Drawn to the Valley
2007 The Chapel Gallery, Saltram House Devon  .  work selected for mixed show
2000 The Culcheth Centre, Bedford  .  "Millenium Mood swings"  .  Mixed exhibition
1999 The Culcheth Centre, Bedford  .  "Seasons of Mist and Mellow Fruitfullness"  .  mixed exhibition
1995 Bromham Mill Gallery, Bedfordshire  .  Exhibiting with The Princess of Wales Hospital Art Project, Ely
The New Studio, Olney  .  "Fabric"  .  Exhibiting with a selection of textile artists
1994 Lynne Strover Gallery, Fen Ditton .  "A Gleam of Sunshine"  .  Solo show
1992 "Wildfowl and Woodlands Mixed Media Exhibition"  .  Solo show