Current Events
Tessa's studio will be open to the public in September with Drawn to the Valley as usual and She has been selected for The Florence Biennale in October this year.
Previous Exhibitions
Delamore Arts 2017-throughout May was as delightful as ever. The addition of talks and lectures was very beneficial and Tessa thoroughly enjoyed all aspects of this years events.
I was delighted to have exhibited with Plymouth Society of Arts at the beginning of the year and thoroughly enjoyed The Contemporary Textile Fair.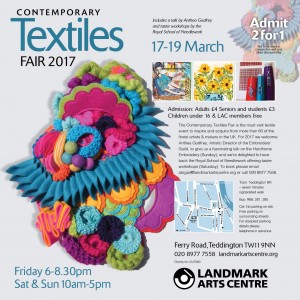 Delamore Arts 2016
The exhibition takes place annually and is open every day in May.  Why not browse and perhaps buy one of the many pieces created by local, national, and international artists.
http://www.delamore-art.co.uk
Oxford International Art Fair 26, 27 & 28 FEBRUARY 2016 · OXFORD TOWN HALL where Tessa won first prize Artist winner.

The city of Tokyo will be playing host to hundreds of talented artists from all around the world when it stages the second Tokyo International Art Fair byGlobal Art Agency (The GAA Ltd) on 13-14 May 2016, Omotesando Hills, Main Building
More than 150 exhibitors from over 40 countries will be filling the prime located venue with an incredible display of art, with more pieces than ever before gathered under one roof for visitors to admire and to buy in the city's largest Artist showcase of modern and contemporary art.

 Wish I could have actually been there in person.
Unconcious Dialogue 8th July- 7th August 2015 with Devonport High School for Girls at Cube 3 Plymouth University.
The Stylish Home and Garden Show, 28th/29th March, Mount Edgcumbe, Cremyll. Tessa  showed bespoke cushions and chairs with Bruce Jacks Upholsterer of Fine Antiques http://www.bruce-jack.co.uk Innovative home and garden ideas, inspiring creative demonstrations with over 60 exhibitors. Coordinated by www.stylisheventssw.co.uk
EMERGING ARTISTS BURSARY WINNERS 2014 Tessa  exhibited at the Thelma Hulbert Gallery, Honiton 6th Sept-25th Oct  2014  www.thelmahulbert.com
Tessa was open to the public for both Drawn to the Valley open studios and Devon Artists Network Sept 2014
Digital Encounters open to the public 13th June- 24th July at UCA Canterbury
The Digital Encounters exhibition hosted by the University for the Creative Arts will be the finale of the Moving Textiles exhibition series. Works can be made in response to the Digital Encounters Symposium which considered the transformative effect of digital design and production techniques on a range of textiles practices exploring the relationship between hand crafted and digital textile techniques. Along with work inspired by the symposium works may be created in response to the question 'How do you see the future of textiles and its relationship to digital media?' Work may be produced by established professionals or up-and-coming designers from across different visual arts, using a range of media or mediums. In addition examples of work made as part of the Crysalis – the revival of textiles project, will be exhibited to celebrate the juxtaposition of digital textiles design alongside hand crafted textiles and heritage.
Drawn to the Valley Capturing Time Exhibition at AONB Tamar Valley Centre, Drakewells, nr Gunnislake in May.
2014 9th Parallax "Art" Fair, 21st/ 22nd February, Chelsea Old Town Hall, London
2013 Plymouth Society of Artists at Plymouth City Museum and Art Gallery, Drake Circus, Plymouth PL4 8AJ 11th January to 13th February
2011-13 Variety of exhibitions and Drawn to the Valley Open studios (see CV)
2010 The Garden House, Buckland Monochorum, Yelverton Devon  .  "Glimpses"  .  Solo show
2009 Duchy Square Centre for Creativity, Prince Town, Devon  .  Curated and exhibited with DTTV
Mount Edgecumbe Cornwall  .  "Explore this Space"  .  Curated and exhibited
2008 Tavistock Town Hall, Devon  .  Mixed exhibition with Drawn to the Valley
2007 The Chapel Gallery, Saltram House Devon  .  work selected for mixed show
2000 The Culcheth Centre, Bedford  .  "Millenium Mood swings"  .  Mixed exhibition
1999 The Culcheth Centre, Bedford  .  "Seasons of Mist and Mellow Fruitfullness"  .  mixed exhibition
1995 Bromham Mill Gallery, Bedfordshire  .  Exhibiting with The Princess of Wales Hospital Art Project, Ely
The New Studio, Olney  .  "Fabric"  .  Exhibiting with a selection of textile artists
1994 Lynne Strover Gallery, Fen Ditton .  "A Gleam of Sunshine"  .  Solo show
1992 "Wildfowl and Woodlands Mixed Media Exhibition"  .  Solo show